Men'S Motorcycle Leather Gloves With Carbon Kevlar Protection
Men'S Motorcycle Leather Gloves With Carbon Kevlar Protection

Options:
Product Description
Sizing Chart
Additional Information
Check out brand new Motorcycle Leather Race Gloves. They offer superior protection, top quality materials, and a refined fit.
Made of quality 1.0mm Top Grain Cow Hide Leather. This leather is 30% thicker compared to what is used in most cow hide gloves and 50% more expensive too.
Contains comfortable warm fleece lining to keep your hands warm (check out the picture below).
Two adjustable Velcro belts in each glove with elasticized wrist band make it very easy to fit.
Dual layer of leather and dual stitching around areas highly prone to stress.
Available in Black Color which will match with most jacket and bike colors.
Scholler Keprotec® with Carbon Kevlar is used on top of knuckles with rubber and air cushion under top guard set extra for protection. This material is also used in aircrafts for its exceptional strength and light weight. It is extremely expensive and most manufacturers use only bits and pieces of it on gloves. This pair however has more Kevlar Carbon on one hand than what most Carbon Kevlar gloves have on both gloves.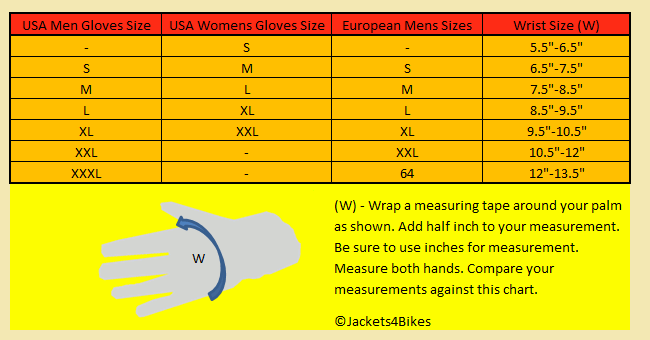 Motorcycle Kevlar Gloves Can Handle Tough Riding
Motorcycle gloves are essential part of biker's protective gear. During a crash or fall a motorcyclist often skids on the road. To stop himself he uses his hands as a natural reaction. As a result, hands are most susceptible to abrasions and they need extra protection. There are many different types of motorcycle gloves in the market, but the safety, defense, and comfort provided by motorcycle Kevlar gloves are insurmountable.
 Importance of Kevlar in Gloves:
Kevlar is a synthetic polymer that was developed in the 1970s. It is popular for its high tensile strength; it is five times stronger than steel. Due to its high impact resistance it is used in applications like body armor, bulletproof jackets, etc. In addition, Kevlar is also very light-weight. Because of its excellent durability and lightness it is used in construction of air planes as well.
Motorcycle Kevlar gloves take advantage of this strength to protect the riders against abrasions and cuts. The Kevlar is mostly availed on the finger joints and knuckles; areas which are sensitive and can get fractured due to high impacts. The Kevlar is used along with rubber to form air cushions over the knuckles. These air cushions absorb shocks guarding your hand joints against fractures and cuts. In addition, due to the light weight of Kevlar the gloves are more comfortable for the riders.   
Layers of Defense offered by These Motorcycle Kevlar Gloves:
Apart from providing reinforced Kevlar protection in the sensitive areas, these gloves offers layers of protective system in its lining for the rest of the hand. The advanced system is intended towards guarding ones hands against abrasions and impact and also to make the gloves water-proof.
The outer most layer is made of Cordura which is another exceptionally strong polymer. It is highly resistant to abrasions and wear.  The second layer is made of Aramide fibers that are great against heat and friction as they don't melt or burn easily. The last layer is aimed towards providing your hands with enhanced comfort. It is made of Polyurethane which is waterproof from the outside i.e. it doesn't let the moisture in but it allows for the active transmission of water vapors to the surroundings. This keeps your hand dry for safe riding.
These motorcycle Kevlar gloves make use of variety of materials that are best for guarding against specialized form of hazards to give your hands all the protection they require.
Clean Your Kevlar Gloves for Longevity:
 Long exposure to dirt, mud, and rain can be damaging to your glove. You should clean them after every tough ride so that they cans serve you more effectively and for longer time. Since the outer most surface of these gloves is leather you need to be careful not to let the leather dry too much. Get leather foam or any conditioner for leather. Get a cleaning cloth and pour a small amount of foam on it. Place the glove in the fingers of one hand, and wipe clean with other in circular motion. Wipe around the glove's finger as well. Let the glove dry in a cool place. The glove should not be placed near a heat source or sunlight or the leather would dry too much which causes it to crack early.
---