Carbon Kevlar Motorcycle Mesh & Leather Race Gloves
Carbon Kevlar Motorcycle Mesh & Leather Race Gloves

Options:
Product Description
Sizing Chart
Additional Information
Get this pair of gloves with excellent ventilation, flexibility and durability and dexterity. Excellent value.
Have you ever wished that gloves had more ventilation! These gloves have just that. They are made of premium quality 0.8 mm cow hide leather and mesh. Leather is use where good grip and durability is needed. Mesh is used where maximum ventilation around hands is needed. Result is an excellent quality pair of gloves that will match any black color jacket or racing suit.
Contain eight air trap which push air around fingers.
Contains comfortable lining.
Scholler Keprotec with Carbon Kevlar is used on knuckles top for protection against heat and friction.
Extremely comfortable.
Two adjustable Velcro belts with elasticized wrist band make it very easy to fit.
This pair of gloves is very rare and not available from anywhere else. Checkout our low prices!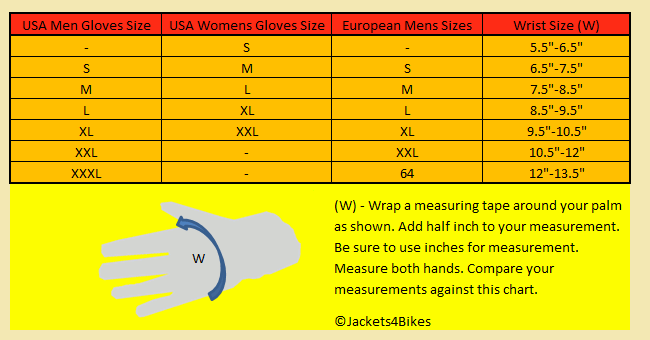 Finding ideal pair of Motorcycle Mesh Gloves for Men
Riding a motorcycle can be very thrilling, and a liberating experience. However, a rider faces many difficulties when riding, which includes cold, chilly winds, sweaty hands, or abrasions on skin. With proper motorcycle gear one can effectively counter all these issues. One should not only focus on the protection and comfort of head and torso, but also consider the safety of his hands as well. A rider mostly uses hands and feet, and if hands are in trouble then maneuvering a bike will become impossible. Also, during trips and falls, a person involuntarily sticks out his hands to protect himself, so hands are most susceptible to injuries and scrapes. Get motorcycle mesh gloves for men and ensure that your hands are in the best shape for riding.
Motorcycle Mesh Gloves are Ideal for Venting:
Sweaty hands are a major problem experienced by riders. Slippery hands can loosen your grip on the bike handles, making it very difficult to maneuver the bike. Improper handling of the bike can lead to terrible accidents. To avoid wet hands, motorcycle gloves must provide outstanding ventilation. They should make use of mesh in certain areas to allow the movement of air within the gloves.
Mesh is made of openly woven fibers which results in holes within the fabric. Air can easily move in and out providing excellent ventilation. The mesh should be used in areas where ventilation is fruitful and required; other areas should be made of strengthening materials. These motorcycle mesh gloves for men avail mesh right at the points where moving air can provide optimal ventilation.
This venting system allows the sweat produced on your hands to evaporate to the outside environment. Therefore, the moisture does not collect and your hands remain dry for excellent grip. With these gloves you can enjoy rides in hot weather too.
Get Mesh Gloves Without Any Concession on Strength:
When motorcycles experience some unfortunate fall while riding, they riders most often skids on the road. As an immediate reaction, hands are used to resist the skidding. Therefore, hands are most likely to get serious bruises and abrasions. Get strong gloves to keep yourself prepared for such unexpected scenarios to mitigate their gravity.
If not designed well, mesh gloves can lack the necessary strength as mesh is not an extremely tough material. The glove should make use of thick and high-quality leather just where it is needed. Also, increased toughness is required around the knuckles. Carbon Kevlar is a light material that is five times stronger than steel. It is a great material to cap and protect your knuckles from fractures and cuts.
Budget Considerations are important:
It is very difficult to find high-quality and carefully designed motorcycle mesh gloves for men, good motorcycle gloves with all the necessary features can cost up to a hundred dollars. However, investing in gloves as cheap as $10 can be very dangerous as well as they will not ensure protection. These $30 gloves are a great buy because they are not only low priced, but they have outstanding qualities as well. Try these out for yourselves, and if you are not satisfied you can get your money back.
---